How To Tie: The Go-To Joe
Imitates: shrimp, crab, ambiguous/something tasty
Target species: bonefish, redfish
Where to fish: flats, backcountry
Notes: The buggier (meaning unruly hackle fibers) the better
Materials from this video:
Save 10% on materials with the kit: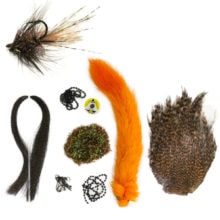 Go-To Joe Materials Kit
#4 Root Beer
2 in stock
About the fly:
The sort of crabby, super buggy, Go-To Joe lands softly and impersonates a tasty morsel. So it's a great tailing bonefish fly. Our Mike (M., SR) caught his first bonefish on this fly, so it has a special place in his heart.
Helpful tools/additional materials:
For palmering hackle and estaz: