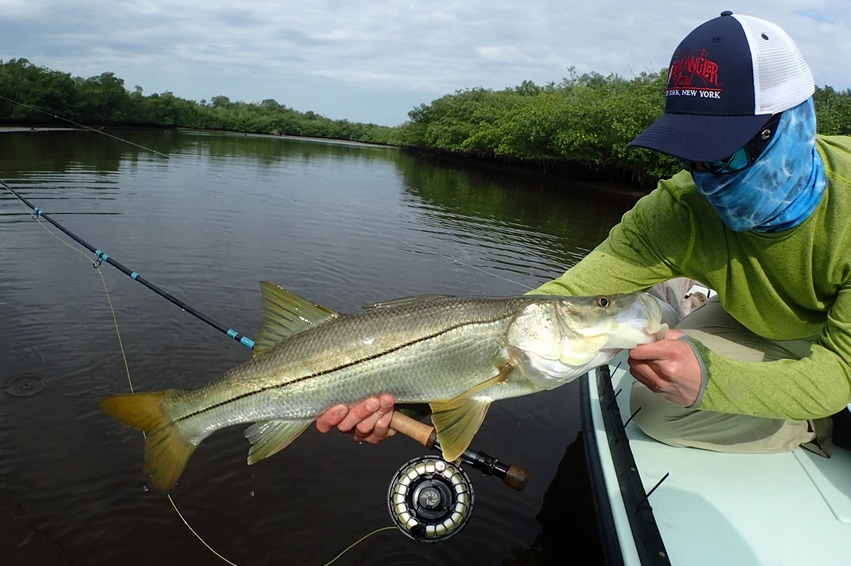 Capt. Mark Giacobba fishes out of Flamingo, the southernmost boat ramp on Florida's mainland located in Everglades National Park. From there Florida Bay, the Gulf of Mexico, and the backcountry bays of the Everglades await.
Capt. Mark is a valedictorian of the backcountry creeks and bays of the Everglades. His professor is the hydrology of the park and what will make a big a snook be in a certain area waiting to ambush. He thrives in the essence of the glades, the solitude, the wildlife – and the hunt for snook, redfish and tarpon.
With the exception of the open beaches and flats, fishing with Capt. Mark is usually close-quarters combat fishing and keeping the fish out of the mangroves is as much a part of it as feeding them. It's a challenge well worth the effort. But no matter what your skill level with a fly rod is Capt. Mark will put you in position to be successful. He fishes with a purpose, but he does not let the incredible environment you'll be surrounded by go unnoticed.
Boat:
Included:
Fly gear and tackle including flies (you're welcome to bring your own as well)
Ice and water (you're welcome to bring your own water in non-plastic containers)
All necessary licenses
Best Season: Year-round
Rates:
3/4 Day (6hrs): $650
Full Day (8hrs): $750
Rates are subject to change, contact Capt. Mark for official current rates.
Call or Text Capt. Mark Giacobba:
What to Bring
Giacobba's Blue Claw – #2
Giacobba's Doofus – 1/0
Giacobba's Skrimp – 1/0
Giacobba's Backcountry Gurgler – 1/0
An 8 or 9 weight with floating line for snook, redfish and baby tarpon
A 10 or 11 weight with floating line for bigger tarpon
Capt. Mark can provide all gear and tackle, if you'd like to bring your own these are his outfit size and fly recommendations
Bring whatever snacks and lunch you would like
You may bring a camera, a waterproof case or bag is recommended
Water is provided, if you're going to bring your own please try to use non-plastic containers