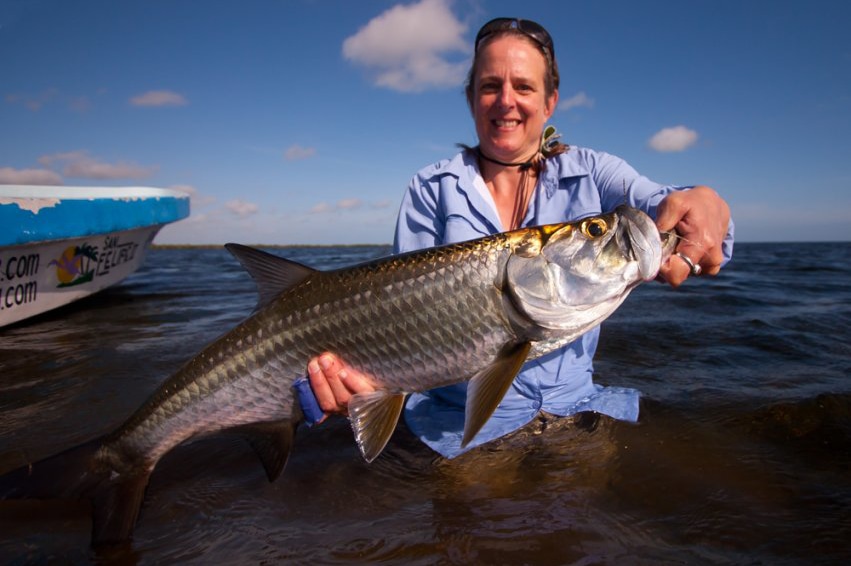 Location: San Felipe, Mexico on the northern shore of the Yucatan Peninsula.
Fishery: Unparalleled, remote baby tarpon fishing. Experience pods of tarpon from the 5 to 25 lb pounds range, 5 to 100 fish deep. All in relatively shallow water on turtlegrass flats and along mangrove lined creeks. The relaxed Mexican fishing lifestyle jumps to life when you launch a young tarpon into the air. You'll be fishing from 18ft Pangas just a short run from the lodge. Tarpon Cay is a great location for tarpon on topwater flies. And if you're here between June and August you might be treated to some shots at migratory tarpon (the big ones).
Accomodations: Water's edge air-conditioned rooms with private bathrooms, and housekeeping service. Everything is comfortable, bright and enriched with traditional Mexican decor. Meals are hearty portions with a local flavor that are an absolute culinary delight for the big appetite.
Fishing Program:
Based on tides and weather conditions. Usually you'll fish first light to late morning, have an afternoon lunch and siesta back at the lodge, then a late afternoon to last light fishing session. But ultimately your guides will determine the program based on the optimum timing of tides and weather.
Sample Itinerary:
Day 1 Arrive Cancun and transfer to lodge.
Day 2-7 Full days of guided fishing.
Day 8 Depart lodge.
Rates:
Per person based on double occupancy:
At time of writing, subject to change
7 night/6 day package: $3,965
6 night/5 day package: $3,590
5 night/4 day package: $3,215
4 night/3 day package: $2,825
3 night/2 day package: $2,435
Included: Accommodations and meals at the lodge, guided fishing, non-alcoholic beverages, guest taxes, fishing licenses, Internet access, ground transfers to/from the Cancun airport
Not Included: Airfare, meals in Cancun, alcoholic beverages, staff & guide gratuities, phone service, laundry service, fly fishing gear and tackle
Season: April to November
Capacity: 6 anglers
All arrangements are handled by our trusty friends at Fly Water Travel.