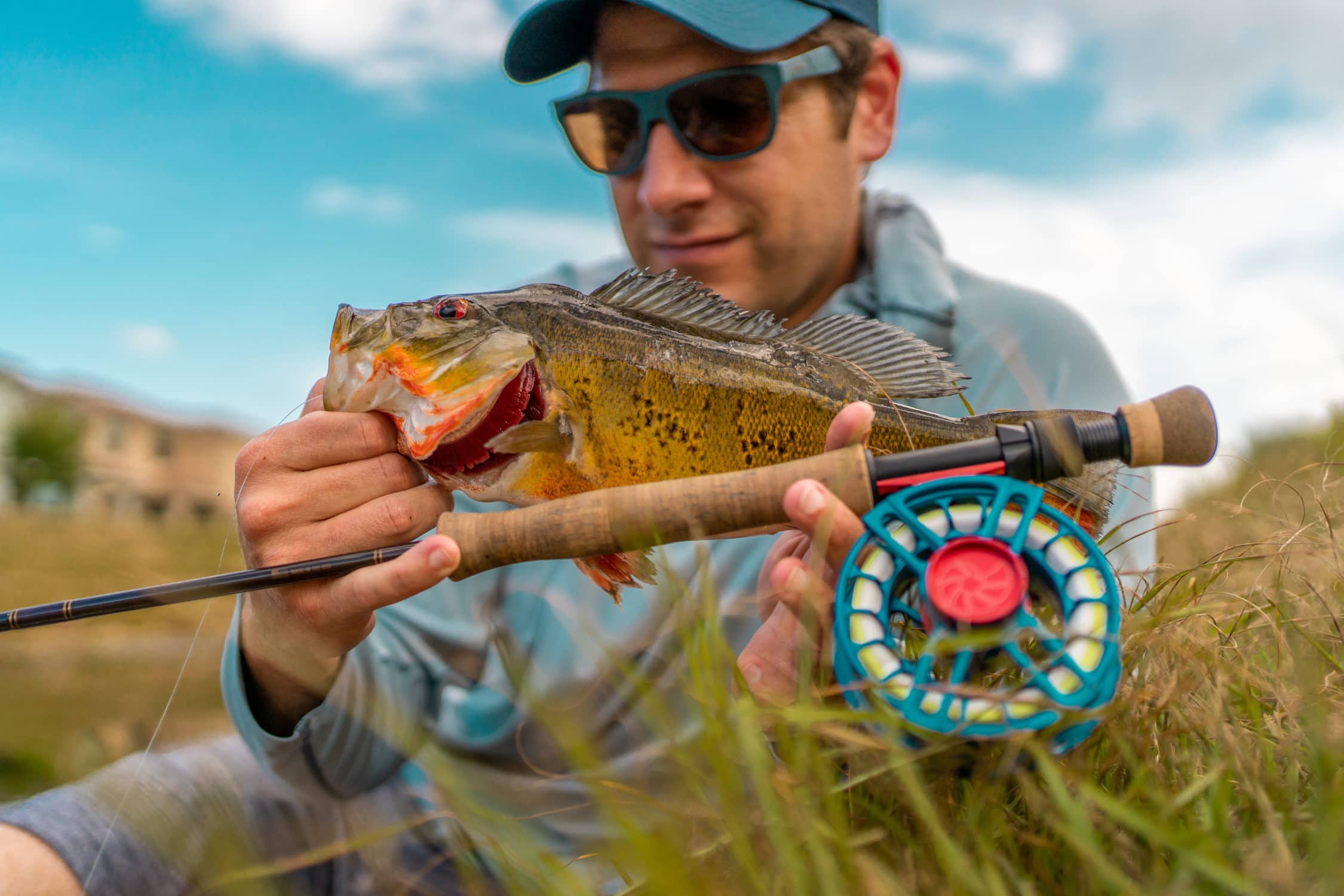 South Florida Peacock Bass
There's nothing like the vicious strike of a peacock bass. They roam the canals and backwater lakes of southeast Florida, making them extremely accessible especially on-foot. Miami-Palm Beach is a travel destination for freshwater chaos that will leave you smiling ear to ear about the memories made.
What makes this fishery incredible
As I mentioned above, the best part of this fishery is how accessible and how much action you can get into virtually anywhere. The South Florida freshwater fishery doesn't discriminate against skill level, whether you just want to start fly fishing or you're a seasoned angler, there's fun to be had.
Also – from deep in Everglades National Park, where you won't see another person all day.. to the most urban and residential neighborhoods (that hold some of the largest peacock bass) – the diversity of environments is unbelievable.
Rods:
A 6, 7, or 8 weight, 9-foot, faster action rod is what you want to look at.
At the top end of the spectrum, an 8 weight is a heavier rod that can double as a great cross-over saltwater rod. The 8 weight lets you throw larger flies in windy conditions. The downside to an 8 weight is that it's a lot of rod for the smaller fish.
I feel that a 7 weight gives you the best all-around freshwater fishing experience. Allowing you to throw a good-sized fly while still offering the fight-ability on the smaller fish.
A 6 weight rod is an absolute blast. For better casters/anglers, having to work a little harder to throw bigger flies is the way to go for a sportier fight.
As far as length goes, a standard 9-foot rod is going to be the best all-around. You can go to a shorter 8'6″ rod for specific reasons such as maneuverability, fast loading, and throwing larger flies. (Such as the Sage Payload)
Reels
Let me start by saying it is okay to drop a little more coin on the rod and a little less on a reel. In most common freshwater situations, reels do not utilize the full drag capabilities they tend to have.
A nice full CNC machined aluminum reel for durability and ruggedness is one of the main things I would look for.
Rod And Reel Combos
Three combos to get you on the water quickly without worrying about piecing together a setup:
#1 – The Rio Field Kit -Bass. This combo is basically the top competitor for freshwater goodness. The fast-action and subtle feel of these rods combine incredibly well, even next to the higher price point rods. This combo's line is also very high quality and pairs perfectly with the rod. Included in the bundle is also a bass leader so all you need are flies to hit the water.
#2– The Redington Path II. A more budget friendly option. This kit is offered in some different sizes. One that stands out is an 8 weight saltwater option which is great if you want a well-priced do it all crossover combo to do peacocks as well as snook in the backcountry.
#3 – Just want to try out fly fishing and see if you like it? The Orvis Encounter is the affordable rod to get the job done. Don't let the cheaper price point scare you away. Backed by Orvis, this rod doesn't fall short and will get your foot in the door with an incredible price for an awesome rod, reel and line combo.
Lines and Leaders
Peacock bass are found in tropical climates and the line you choose goes through a lot while walking the banks and soaking up the heat. Having a high-quality line will make your experience more pleasurable.
There are a few things to look for in a line: a durable coating rated for tropical climates, welded loops on both ends to change lines and leaders quickly, and a taper that loads relatively short.
There are two lines that really stand out and check all the boxes when looking for a line. The Scientific Anglers Amplitude Grand Slam and RIO Bonefish QuickShooter are both lines that offer aggressive forward tapers to quickly deliver flies fast at medium-short distances.
They both have unbeatable coatings and offer welded loops on both ends. They also handle heat extremely well being tropical lines.
When it comes to leaders, it is pretty straightforward. The simplest way to go is with a RIO Bass Tapered Leader in either a 12lb or 16lb. Adding a piece of monofilament tippet (12lb or 16lb) will preserve your leader's taper when you're changing flies.
Flies
When it comes to flies, peacock bass are not very selective. They are extremely aggressive and territorial. Baitfish patterns in bright colors (chartreuses, firetigers) and natural colors (olives, greys, whites – think bluegill or shiner) work incredibly well.
Topwater flies work well to grab the fish's attention on calmer mornings and can be insanely fun to fish.
When the water is cooler, having a larger slow moving pattern that gets down deeper is a great choice.
It's also important to have a weedguard or weedless fly available as vegetation can be a great cover for fish.
South Florida Peacock Bass Box - Small
5 available
South Florida Peacock Bass Box - Large
1 available
Finding Fish
As a general rule of thumb, the further south you go, the hotter the bite can be. Most lakes south of Palm Beach have a high likelihood to hold fish, just be persistent and give each spot you stop at at least 15 solid minutes.
These fish are extremely structure orientated and love the cover and brush. Look for downed trees, vegetation, culverts, bridges, broken concrete in canals, or rock paver canal banks.
Normally the more west you head, the more prominent the peacocks are. Lakes and canals that border the Everglades – all along Hwy 997 and Hwy 27 – hold an incredible amount of fish and tend to have a lot fewer people fishing them.
If you want even more solidarity, head down Tamiami Trail or State Road 41, it's an incredible fishery. If you have access to any golf course lakes that allow fishing, they can be primetime.
Culvert pipes are the first places I look while walking the banks of canals or lakes. Peacocks normally hang on either side and are eager to eat.
If you'd like to go with a guide, the man around our parts for peacock bass is Capt Patrick Smith from Swamp To Sea Guide Service.
How to fish them
Again peacock bass are known to be incredibly aggressive and very territorial. A fly in bright colors moving erratically normally gets the eat.
One of my favorite ways to catch peacocks is topwater. The explosive, aggressive strikes are thrilling and so visually stimulating with the fish's bright colors coming up from underneath the fly.
Dawn and dusk are known to be prime times to fish, while this is true for peacocks as well, these fish will also eat throughout the day.
What really makes these fish shut down is the cold weather in the winter. In the cooler months changing your style to larger patterns moved slower and deeper normally produces better and more fish.
Always keep a lookout for other species roaming the freshwater such as bullseye snakeheads, largemouth bass, and the elusive Clown Knifefish. These other fish are abundant and an absolute blast to catch.
Tips and tricks
One major thing that can really put a downer on peacock fishing is the grass and snags along the banks of canals and lakes. An easy solution, use a stripping basket off the hip. A Linekurv stripping basket is a great tool for keeping your sanity while fishing areas with line snags.
Having a good quality pair of cutters and pliers makes changing flies and removing flies quick and efficient. We personally choose the Umpqua RiverGrip Scissor Clamps for their ease of use and built-in cutter/forcep combo. The long neck makes it so much easier when a fish swallows the fly.
In Conclusion
With all that being said, we hope you get on some fish and if you need any more advice on anything fly fishing we're always here to help. Please feel free to reach out via live chat or give the shop a call for all your fly fishing needs.